That become really cool in the evening, and is almost fall in the morning; felt.
It is held "the ninth Ashizuri shiningly" for 3rd on Monday for from Saturday, October 10 to 12th!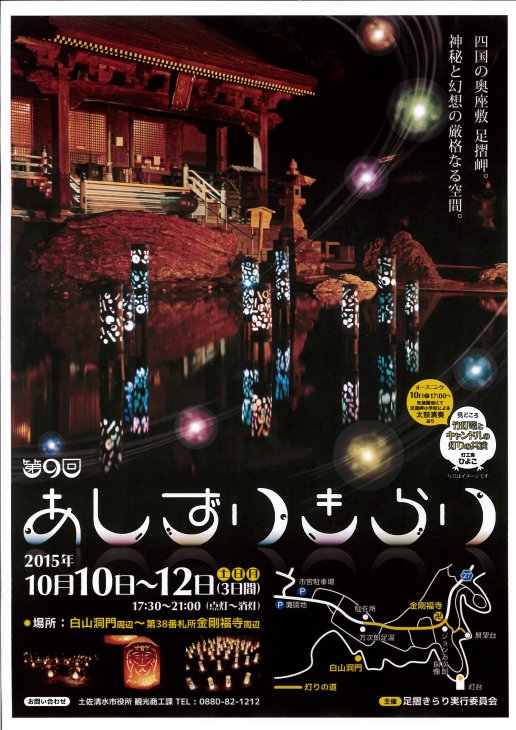 The date and time: From Saturday, October 10, 2015 to 12th Monday from 17:30 to 21:00
Location: The Cape Ashizuri Hakusandoumon Sea Cave outskirts - Kongofukuji Temple outskirts
Contents: It is event to light up Cape Ashizuri tip garden, Kongofukuji Temple and the Hakusandoumon Sea Cave outskirts by light of candle.
We install bamboo garden lantern by light studio fledgling of 40,010 towns more this year around pond of the Kongofukuji Temple precincts.
Please enjoy fantastic night Cape Ashizuri!
☆Opening ☆  10th Saturday 17:00 ... 
We send performance of sum drum with Cape Ashizuri elementary school in tip garden.
In addition, there is branch of light meal by local woman part.
★・・... ★・・ ... ★・・ ... ★・・ ... ★・・ ...★
In addition, it recruits participants of experience-based event.
☆Dusk "The Seven Wonders of Cape Ashizuri Tour"
 11th Sunday 17:00 ... (around 60 minutes) free of charge, capacity 20
☆Star watching
 10-12 days (Saturday, Sunday and Monday) 20:30 ... (around 30 minutes) free of charge, capacity 20
Receptionist finishes offer as soon as we reach capacity in prior application system (the October 7 deadline).
Thank you for your understanding.
Application: Tosashimizu City Hall sightseeing business and industry section (0880-82-1212)