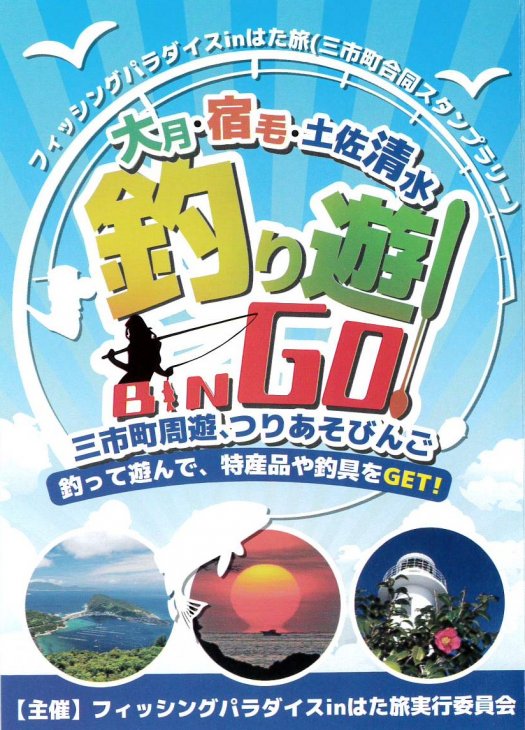 ***************************************************************
Otsuki, Sukumo, 3, Shimizu, Tosa municipalities tour "fishing play BINGO" (tsuriasobingo)

***************************************************************


<< period >> until from Friday, November 23, 2018 to Sunday, February 24, 2019
<< the application deadline >> ① application box: Sunday, February 24, 2019
      ②Mail: It must arrive by Thursday, February 28, 2019
      ※You put bingo mount in the envelope, and please mail to Tourism association of 3 municipalities either.
●Participation method●
① We perform the use (at fishing tackle shop, ferryboat for anglers, accommodation, road station more than 500 yen) of Otsuki Town, Sukumo City, participation facility of Tosashimizu City and collect stamps.
② You collect three stamps, and please achieve bingo in length, side, either diagonal. Other than FREE frame, only sealing in municipalities appointed on the frame is effective. (when we, e.g., seal in participation shop of Tosashimizu City, we seal frame of blue Tosashimizu area.)
③ In application box setting shop of each municipality, please mail application paper if you achieve bingo. Mail to each Tourism association is possible, too.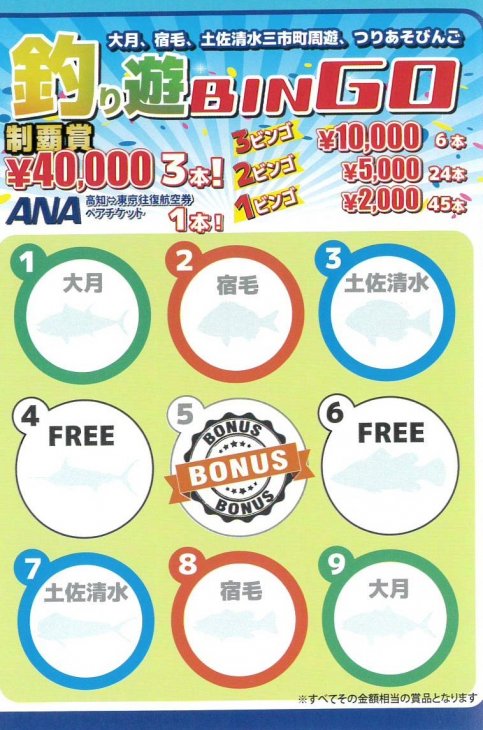 << application box setting place >> 
 Otsuki Town: ●Fishing studio plus is good ●Lawson Hiromi, Otsuki-cho store ●Otsuki Town Tourism Association
 Sukumo City: ●Sukumo fishing tackle ●Single island surf-fishing center ●Matsuoka fishing implements Sukumo store ●(no company) Sukumo City Tourism Association
 Tosashimizu City: ●Takemoto fishing tools shop ●Fishing good luck fishing tackle shop ●Road station mejikano village Tosashimizu ●Restaurant & Souvenir Shop Rest Tatsukushi ●(no company) Tosashimizu-City Tourist Association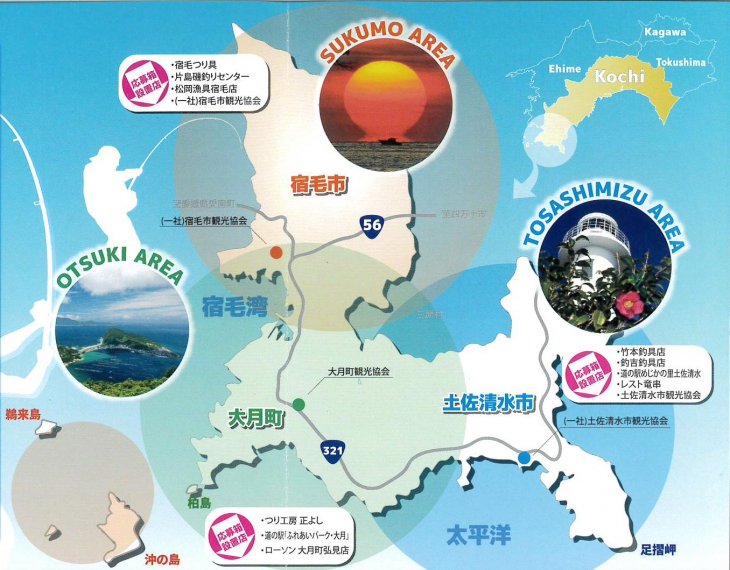 ≪Instructions≫
① Application is possible from 1 bingo.
② Overlap of same participation shop stamp becomes invalid.
③ I would like the name, address, entry of contact information at the time of mailing by all means.
④ We use personal information only for shipment of prize and keep after business appropriately.
⑤ After the application deadline, we perform fair lottery and get announcement of elected candidate with shipment of prize.
[prize]
Prize for conquest 40,000*3 yen book, fishing fool chairperson Prize *1 [ANA Kochi ⇔ Tokyo round-trip airline ticket pair ticket ANA HOLDINGS Inc. offer]
3 bingo 10,000*6 yen books
2 bingo 5,000*24 yen books
1 bingo 2,000*45 yen book     

Contact
Otsuki Town Tourism Association TEL: 0880-62-8133 FAX: 0880-62-8133
Sukumo City Tourism Association TEL: 0880-63-0801 FAX: 0880-63-0800
Tosashimizu-City Tourist Association TEL: 0880-82-3155 FAX: 0880-82-3156
Sponsorship: Fishing paradise in hata trip executive committee
[list of participation facilities]
●Otsuki Town
<< the accommodations >>
 See person inn pension all which are Yamatoya inn Hata district dweller accommodation cursor livret; wind bell leaf Otsuki lodging "crinum" is still inn 
<< accommodation / ferryboat for anglers, raft >>
 Fin house moat edge fishing boat surf-fishing center Yasuoka (thing flat circle) morning sun ferryboat for anglers Sakamoto ferryboat for anglers, lodging "konari" KUROSHIO ferryboat for anglers Inoue ferryboat for anglers RYOEI ferryboat for anglers
<< ferryboat for anglers, raft >>
 "Come, and do, and I hate" Kairaku hermitage; mushogan Malin club flippers Nana Maruyoshi Kei-maru Kashiwabara ferryboat for anglers Taniguchi ferryboat for anglers Otsuki play fishing center
<< fishing tackle shop >>
 Fishing studio plus is good
<< tourist facility >>
 Road station "contact park, Otsuki"
●Sukumo City
<< the accommodations >>
 Learn hot water of Akisawa hoteruhoteruaban Sukumo Sukumo resort palm; island every inn hotel Matsuya Hotel ASAHI inn
<< accommodation / ferryboat for anglers, raft >>
 In the the inns Hondo ship, house book inn's first Fukuwata ship, first fortune-so Miyamoto ferryboat for anglers, lodging Miyamotos best among ferryboat for anglers, island best among Sawachika ferryboat for anglers, looking into the distance building Sawachika Takami ferryboat for anglers (the offing), Takami inn Kaneko ferryboat for anglers, lodging Kuroshio Current island of ferryboat for anglers, lodging island as soon as burn, and wait for Shibata ferryboat for anglers, lodging; Takami ferryboat for anglers (cormorant), lodging Takami
<< ferryboat for anglers, raft >>
 Off-island ferryboat for anglers Okazaki ferryboat for anglers fishing Yoshimura Sukumo play fishing center Nishida ferryboat for anglers Nishioka fishing raft
<< fishing tackle shop >>
 Sukumo fishing tackle Matsuoka fishing implements Sukumo store single island surf-fishing center
<< tourist facility >>
 Though road station is not crowded; Sunnyside park
●Tosashimizu City
<< the accommodations >>
 House lodging tagami of Ashizuri Pacific Hotel Hanatsubaki Ashizuri Thermae Hotel Ashizuri-en Ashizuri Sunnyside Hotel Hotel Nangoku Hotel Orange Minshuku Kotobuki Tourist home Tamura penshonsarai Tourist home Ao-misaki lodging mandarin orange
<< ferryboat for anglers, raft >>
 Ferryboat for anglers Tosashimizu City ferryboat for anglers which we did which comes, and waits for Tomita ferryboat for anglers Nishimoto ferryboat for anglers which waits for Okano ferryboat for anglers Nakazawa ferryboat for anglers ferryboat for anglers 
<< fishing tackle shop >>
 Takemoto fishing tools shop fishing good luck fishing tackle shop
<< tourist facility >>
 Restaurant & Souvenir Shop Rest Tatsukushi road station mejikano village Tosashimizu