(-_-;) which is the Shikoku southwest edge, Tosashimizu City that influence of typhoon 16 is worried about from the weekend to next week
It is held in Otsuki Town along R321 (Route 321), Tatsukushi, Cape Ashizuri of Tosashimizu City next month,
We introduce event for motorcycle riders!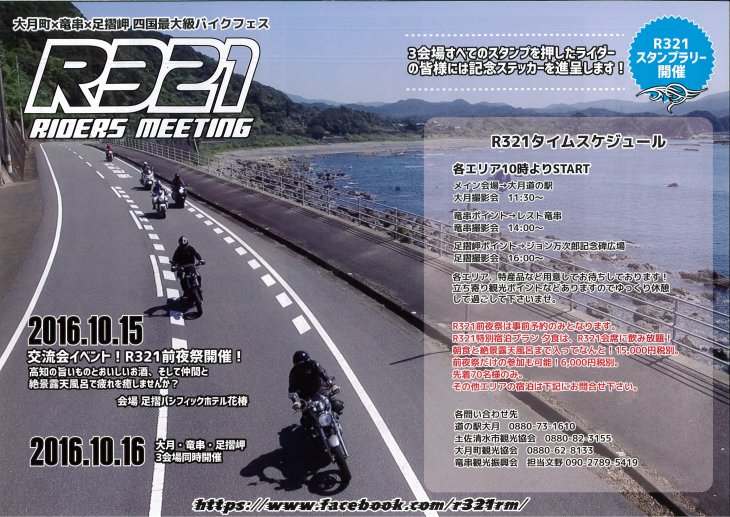 R321 RIDERS MEETING
2016,10,15 Saturday
 R321 eve in Ashizuri Pacific Hotel Hanatsubaki
 Do you not heal fatigue in delicious thing of Kochi and liquor, superb view open-air bath?
  ※The advance reservations pivot 
2016,10,16 Sunday
 R321 RIDERS MEERING
 Otsuki Town, Tatsukushi, Cape Ashizuri 3 venue simultaneous holding
 We start at each area 10:00!
 Main venue → Road station contact park Otsuki
        Otsuki shooting society 11:30 ...
 Tatsukushi point → Restaurant & Souvenir Shop Rest Tatsukushi
         Tatsukushi shooting society 14:00 ...
 Ashizuri point → Open space in front of the The Statue of John Mung
         Ashizuri shooting society 16:00 ...
 We prepare each area, special product and look forward to!
As drop in, and is tourist attractions, relaxedly
Please spend taking a break.
 At Ashizuri point the Tosashimizu-City Tourist Association staff with Chabushi of Souda Bushi,
We offer princess bonito and look forward to!
 We hold stamp rally! Of rider who pushed stamp of all 3 venues
We present commemorative sticker to everybody!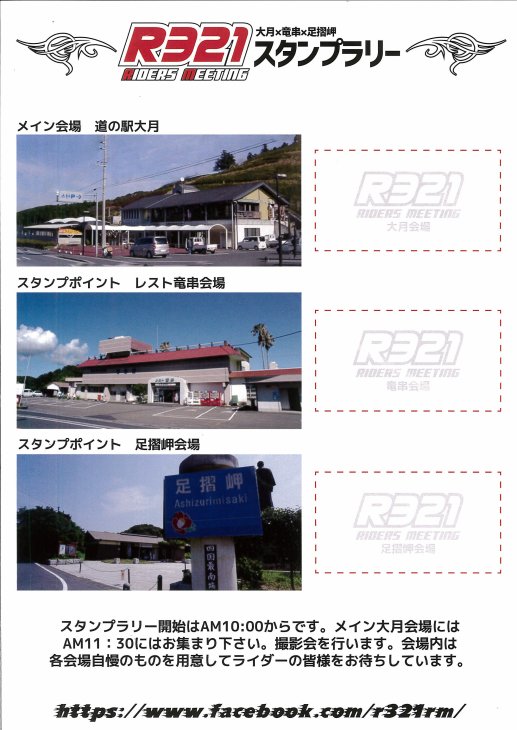 Each venue reference↓↓↓
Road station contact park Otsuki: 0880-73-1610
Tosashimizu-City Tourist Association: 0880-82-3155
Otsuki Town Tourism Association: 0880-62-8133
Sightseeing in Tatsukushi promotion meeting charge / Fumino: 090-2789-5419
We run in R321 on motorcycle! Feeling looks very good♪♪
On the day it seems to become good weather! (*^^)v
We look forward to participation of many riders! (^^)/