Walking event to be held every year in February, and to count the thirteenth in this year that thicket Tsubaki reaches in full bloom in Ashizuri peninsula.
Do you not walk Cape Ashizuri of the early spring while watching scenery of the magnificent Pacific?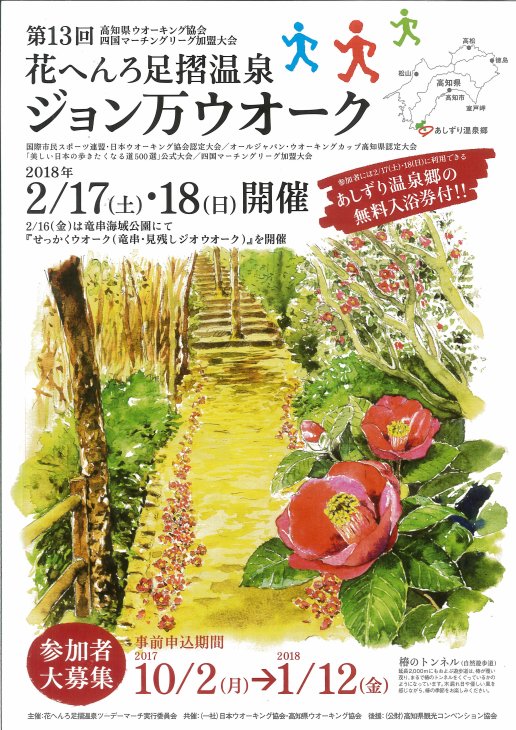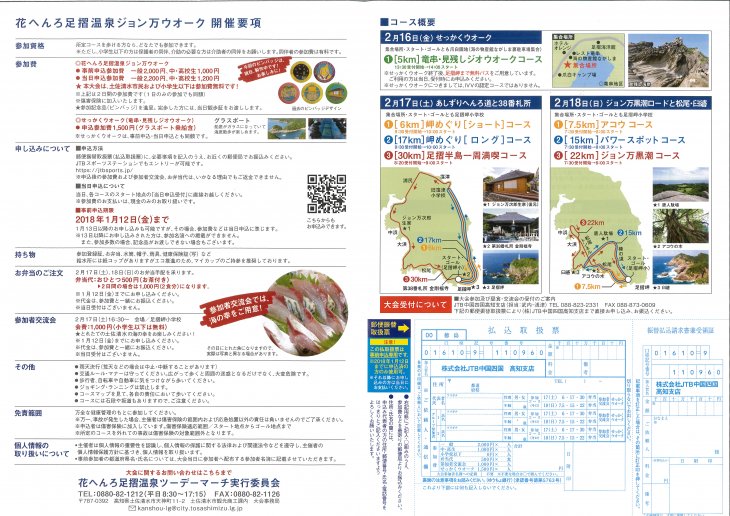 ●On the date●
 Saturday, February 17, 2018, 18th Sunday
  ※On Friday, we hold "walk (Tatsukushi has left unseen geo-walk) in Tatsukushi Sea Area Park with much effort" on 16th
 (Ryoma passport, Kochi house health passport participation event.)
●Application●
 Participation application, lunch, application for participant exchange meeting are until Friday, January 12, 2018.
Application after  January 13 is possible, too, but, in that case, on the day entrance fees follow application.
 ※On the day participation is possible, too.
 ※In addition, one that was applied for after 13th to participation list cannot publish.
 In addition, in the case of a lot of participation, I may not hand souvenir.
 ★As for this meeting, Tosashimizu citizen and child of under primary school children are free!
●Application method●
 ①In JTB China Shikoku Kochi branch office by FAX or mail
  ※You cannot use payment handling vote on HP.
  As you mail brochure from sightseeing in city hall business and industry section, please contact reference of meeting.
●Sponsorship●
 Sponsorship
  Hana henro Ashizuri hot spring two days march executive committee
  〒787-0392
  11-2, Tenjinmachi, Tosashimizu-shi, Kochi (the meeting secretariat in Tosashimizu City sightseeing business and industry section)
  Tel: 0880-82-1212 / FAX: 0880-82-1126
 The cosponsorship
  (no company) Association of walking in Japan   
   Association of Kochi walking
●Reference●
Person in charge of sightseeing in  Tosashimizu City Hall sightseeing business and industry section
  Tel: 0880-82-1212
  E-Mail address kanshou-lg@city.tosashimizu.lg.jp
●Course summary●
 Friday, February 16
 Tatsukushi has left unseen; geo-walk course [5km course] (13:30 acceptance, 14:00 departure)
 Saturday, February 17
 ashizurihenro way and the 38th Fudasho (sacred site for pilgrimage)
① [6km course] (9:30 acceptance start, 10:00 departure)
② [17km course] (9:30 acceptance start, 10:00 departure)
③  [30km course] (8:20 acceptance start, 9:00 departure)
 Sunday, February 18
 John-Mung Kuroshio Current road and Matsuo area, usubae
① [7,5km course] (7:30 acceptance start, 8:00 departure)
② [15km course] (7:30 acceptance start, 8:00 departure)
③  [22km course] (7:30 acceptance start, 8:00 departure)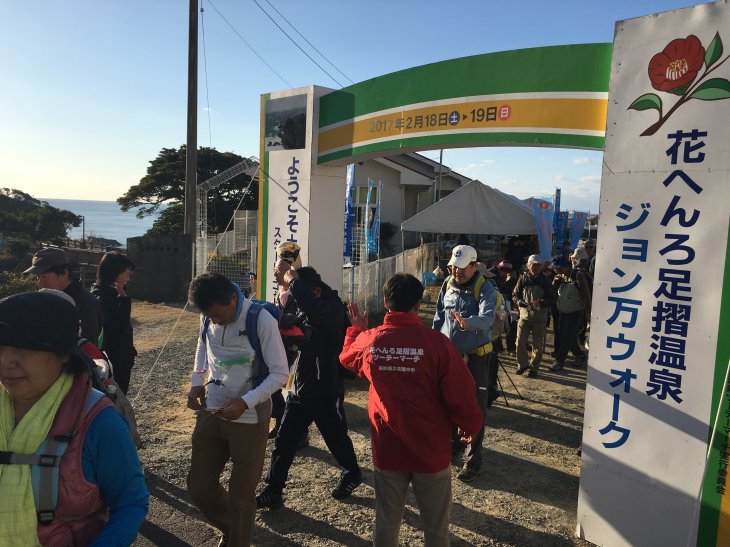 The application deadline approaches, but looks forward to application for much one! (^^)