Hello!
Introduction was late, but GW from Thursday, May 3 to 5th Saturday of this year
This holds event in John-mung Museum, too!
John Mung Seaside Genki Festival tototaberone
The date and time: Thursday, May 3, 4th Friday, 5th Saturday
   From 9:00 to 15:00
Location: John-mung Museum
Contents: Noted product camp ground, fishing experience in Thailand, quay fishing experience,
   Sea kayaking experience, rent-a-bicycle, fishing boat taxi,
   Souda Bushi early cut meet (only on 5/3, 4th), mejika pole-and-line fishing meet (only on 5/3, 4th)
   Tosashimizu City saba pickles bowl (only in 100 meals of limitation, 5/3)
   ≪Stage event >> ↓↓
   5/3 → Ashizuri drum, belly dance
   5/4 → suridodansukurabu, SSD38
※Event contents change or, in the case of stormy weather and rainy day, it may be canceled.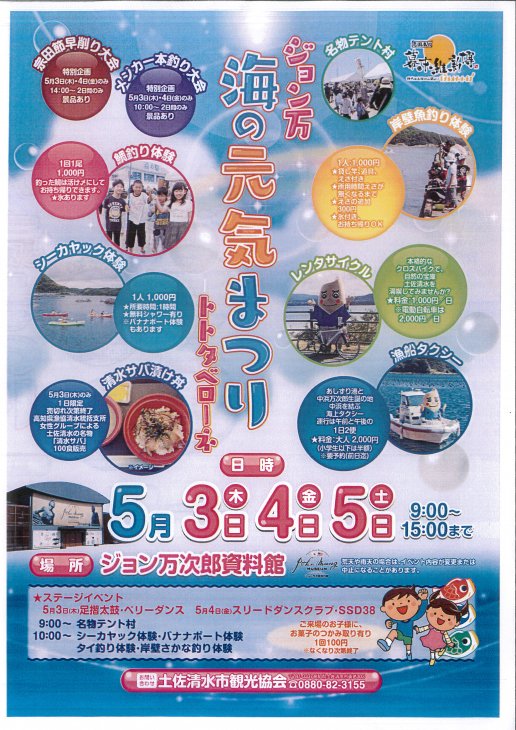 In the GW latter half, come to play to John-mung Museum by all means! (*^_^*)