We hold GW of this year!
Cheerful festival of the GW John-Mung sea
Recreation experiences concerning the sea are varied!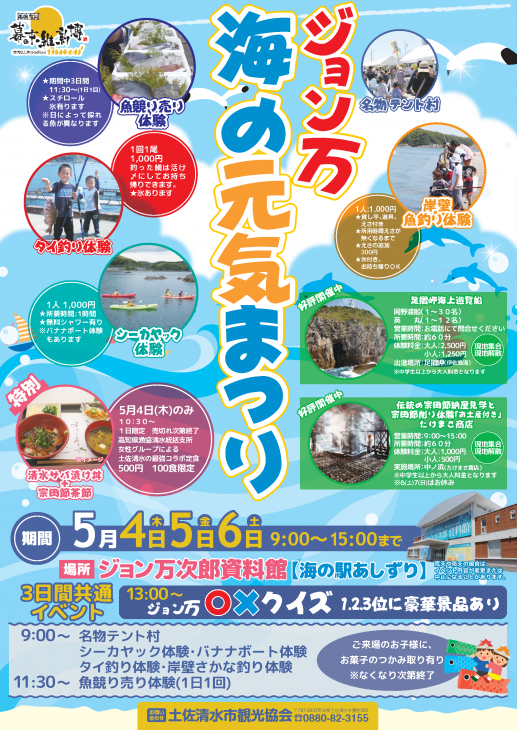 ●Date●
 H29 age Thursday, May 4, 5th Friday, three days on 6th Saturday 
 From 9:00 to 15:00
●Place●
 Port of Ashizuri (John-mung Museum side quay)
●Contents●
◎Event that we let go through for three days↓↓↓
★Fishing experience (you can take to go with one once, 1,000 yen, with ice.) in Thailand
★Sea kayaking experience (there is one 1,000 yen, necessary one hour, free shower. Banana boat experience is possible, too.)
★Quay fishing experience (addition 300 yen of bait freeze and can take fu kideo to go until bait disappears one 1,000 yen, pole, tool for rent, the time required with bait.)
★Fish itinerant trade experience (with once a day 11:30 ..., styrene, ice)
★John ten thousand true-false quiz (there is luxurious premium in ..., 1, 2, the third place at 13:00)
★Noted product camp ground (Tosashimizu, a lot of delicious things of the neighborhood municipalities line up.)
◎Limited to Thursday, May 4↓↓↓
★Sale of Tosashimizu City saba pickles bowl + Souda Bushi Chabushi
(we stop at the end, one meal of 500 yen, Kochi fishermen's cooperative association Tosashimizu City unification branch women's group as soon as ..., daily limitation 100 meals are sold out at 10:30.)
In addition, please enjoy including the following!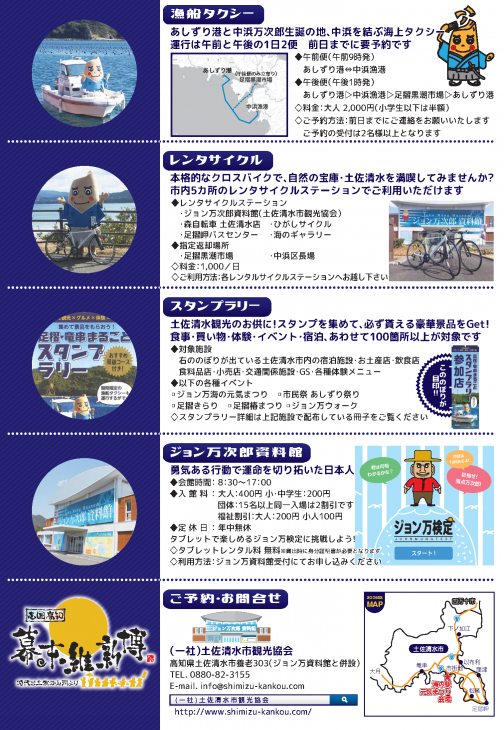 GW, please come to Tosashimizu to play!